About Us
Montres8 company was established in 1995, is a professional manufacturer engaged in the research, development, production, sale and service of all kinds of watches and watch accessories. Dedicated to strict quality control and thoughtful customer service, our experienced staff members are always available to discuss your requirements and ensure full customer satisfaction.

With over 20 years of experiences in timepieces, we are a leading high-end watch producer that support and supply to many international and micro brands in Europe, America, Oceania and other countries over 40 markets. We are also constantly exploring new markets all over the world. Concentrating on OEM & ODM services, we have a professional R&D team with 8 designers and 9 technical engineers to make custom design.
Whole process service of Montres8 are as follows:

MARKET RESEARCH → BRAND STRATEGY → PRODUCT STRATEGY → PRODUCT DESIGN → PRODUCT R&D → SUPPLY CHAIN BEST SOLUTION DESIGN → RAW MATERIAL PROCUREMENT → BORDERLESS PRODUCTION → PRODUCTION MONITORING → PRODUCT ASSEMBLE → LOGISTICS INTEGRATION → IMPORT AND EXPORT SERVICES→ DISTRIBUTION SERVICES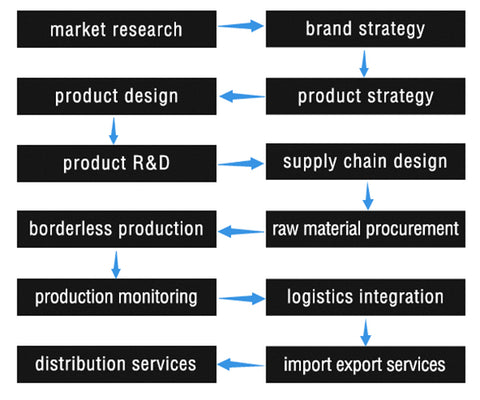 Advantages to Empower Brands:
* STRATEGY DESIGN EMPOWERMENT

- Set benchmarks for brands, how they lead the region and who they are.
- Set position for brands, designing differentiated strategies by analyzing customer pain points, competitor weaknesses and their own advantages.

* PRODUCT STRATEGY EMPOWERMENT

- Locate focused product categories by four dimensional analysis of products, users, competitors and trends.
- Enhance brand value by refined packaging of name, package, selling points and services.

* NEW PRODUCT DEVELOPMENT EMPOWERMENT

- Collect smart big data from global and local e-Commerce platforms, fashion social media platforms and industry authoritative research reports to deduct the cycle of latest hot selling elements, analyze and build fashion elements pool of future potential hot selling pieces.
- Continuously design competitive potential hot selling pieces based on brand positioning, target user profile and competitor analysis and at the same time taking into consideration of latest trends and fashion elements.
- Only by focusing on hot selling pieces can we occupy users' mind and lead the market.

* SPECIAL ADVANTAGE EMPOWERMENT

Being the only one means being number one. Bolong promises that the same model is provided to only one customer in the region. In this way, customer profit margin can be ensured and user repurchase rate, brand influence, brand recognition and market share can be improved.

* COST EFFECTIVENESS EMPOWERMENT

By fully utilizing advantage integration of our supply chain management system consisting of information flow, material flow, fund flow, logistics and smart data flow, through control of links including high-standard setting, raw material purchase, production monitoring, we share with customers our three core advantages of quality safeguarding, cost control and cycle optimization.

* MARKETING EMPOWERMENT

- Based on brand positioning and market-leader strategy, considering the 4P principle of product, price, place and promotion, set staged marketing strategy and objectives.
- Provide customers with basic marketing content, such as website building, H5 making, product shooting, promotional material design and making.
Production Equipment

In our factory, there are international standard modern production facilites. It includes artificial sweat incubator tester, air leakage tester, steel hardness tester, destortion and traction tester, standard light box, high temperature tester, plating wear resisiting tester, glass crash tester,strap swing tester,pull push tester.

Cooperate With Us

If you would like to build up your own watches brand, you are in the right place. To start your custom watches business, you only need to send us your questions, requirements or concerns, our sales team will reply you in 24 hours. contact email: service@montres8.com.